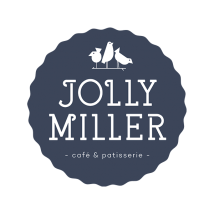 The Jolly Miller
Like early birds in the morning The Jolly Miller are mixing, making and hand crafting their products to share with you each and every day.

The Jolly Miller take no shortcuts and craft their products using only the finest ingredients to deliver delicious, quality meals and treats for you. They believe there is no greater moment than sharing good honest food with someone you love.

From a delicious breakfast, a hearty burger or any one of our decadent cakes The Jolly Miller have got good honest food to make every moment memorable.